Use Only Genuine Bonis Needles and Parts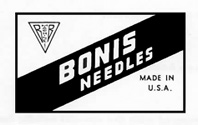 For trouble -free performance it is necessary to use only genuine Bonis needles. They have been designed and manufactured specifically for Bonis machines, which have been factory timed to the Bonis needle. Perfected through intensive research our needles and parts are of superior quality. Using our needles will eliminate skipping of stitches as well as needle and thread breakage. Our precision made needles having the proper temper and smooth eye are the exact length and perfect fit producing maximum efficiency in sewing heavy or fine materials.
It is equally as important to use only genuine Bonis parts for your Bonis Sewing machine.  All Bonis machines and parts have been specifically manufactured and assembled with the highest quality materials and workmanship under our own factory supervision and designed to optimally operate together, helping you produce superior products.
The Bonis machine, parts and needles are sold through us, in our New York office or on this website, and through authorized Bonis Sewing agents located in major U.S. cities and throughout the world. You can expect excellent sales and service from both.
Call 212-645-0001 to order.
Pricing for Needles
| | | | |
| --- | --- | --- | --- |
|  Available sizes |   |   |   |
| System 292 |   |  per 100 |  per 1000 |
| 12-A,14-A 16-A | (A Model Machines) | $75.00 |  $750.00 |
| 18-A,20-A,21-A 22-A | (A Model Machines) | $75.00 |  $750.00 |
| 8-B,10-B,12-B,14-B | (B Model Machines) | $75.00 |  $750.00 |
| 12-H, 14, 16, 18, 19, 20, 21, 22, 23, 24-H | (51 Class Machines) | $75.00 |  $750.00 |
| 18-F,20-F,22-F,23-F, 24-F | (51 Class Machines) | $75.00 |  $750.00 |
| 04-K, 6-T 7-T 8-T | (T Model Machines) | $75.00 |  $750.00 |
|   |   |   |   |
| System 459R |   |   |   |
|   |   |   |   |
| 10/90 – 12/80 – 14/75 |   | $35.00 | $350.00 |
| 16/65 – 17/60 |   | $35.00 | $350.00 |
| 18/55 – 19/50 |   | $35.00 | $350.00 |
| 20/45 – 21/40 – 22/35 |   | $35.00 | $350.00 |
|   |   |   |   |