Bonis Golden Oiler Series "Never Stop" Machines for Furriers
with self-lubricatation and new visual oil level gauge
Bonis Model A-18
USD $ 2040.00 Click here for parts for this
For sewing let-out strips on heavier weight skins such as Let-out Beaver, Alaska Seal, Russian Broadtail, Raccoon, Foxes, and for closing let-out mink od medium weight skins. The special seam control guide automatically feeds the material through the feed disc wheels at a uniform height, so that you will always achieve an even stitch depth.
Uses needle system 292, sizes 20-A, 18-A, 16-A
FEATURING NEW AUTOMATIC GRAVITY FEED OILING SYSTEM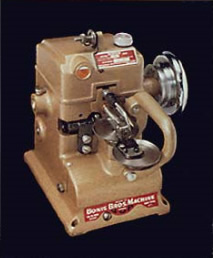 BONIS MODEL A-16
The Machine for General Work
This machine is used primarily in retail fur shops for repair and remodeling procedures. It is also used by manufactured for sewing Persians, Muskrats, and all medium weight furs.
Uses needle system 292, sizes 16-A, 14-A, 12-A
SUITABLE GUIDES WILL BE SUPPLIED WITH ALL MACHINES.
SPECIAL GUIDES ARE AVAILABLE AT EXTRA COST.
INQUIRE ABOUT OUR MACHINES FOR OTHER INDUSTRIES.