Bonis Golden Oiler Series – Never Stop Machines for Furriers
with Self-Lubrication and Visual Oil Level Gauge
Bonis Original Models
For Specialized Work on Toys, Shoes and Other Items
Bonis Model ST-55
$3500.00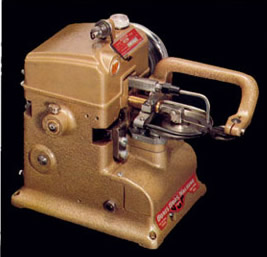 Specially suitable for working on toys and shoes, this heavy duty machine is used for all types of heavy seams: for over-seam sewing on plush toys, shearling, mouton, leather and simulated leather slippers, or any bulky fabric where such a stitch is required. The feed discs are but our 1 1.2 inches (38.10 mm) further from the body of the machine to allow more room under the pics to accommodate heavy materials.
Bonis Model ST-55 also comes with a smaller front feed disc 1 1/4 inches (31.75 mm) in diameter, allowing wheel to get into and sew around very small openings such as sewing around heels of shoes and slippers and attaching small vinyl shoots, hands and shoes to plush toys. Adaptable for all other small detail work. Attachments are available for other special requirements.
Shown above with 1 1/4 inch small wheel for greater turning ability. Shown on right with optional 2 3/8 inch large front wheel.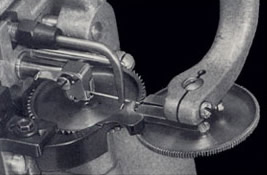 Special Construction:
Longer arm and small 1 1/4 front feed disc for turning at heel section.
Greater Speed
No Vibration
No Oil Seepage
Bonis Model ST-56
$3680.00
For extra pulling power of heavy materials. Big bite stitch. 3" diameter saw tooth wheel #4 adjustable guide. Length of Arm: 5 inches overall (12.70cm)
SUITABLE GUIDES WILL BE SUPPLIED WITH ALL MACHINES
SPECIAL GUIDES ARE AVAILABLE AT EXTRA COST
INQUIRE ABOUT OUIR MACHINES FOR OTHER INDUSTRIES