Bonis Golden Oiler R Series Machines for Furriers
Available in all A and B Models
Bonis Model A-18-R
USD $2040.00
For sewing let-out Beaver, Alaska Seal, Russian Broadtail, Raccoon, Fox, and Male Mink skins.
This special needle bar allows the use of 459R Class needles. These needles are used throughout Europe and South America. When ordering the R Series, include and R after the model number for use of the 459R needle. Also, be sure to specify type of skins to be sewn when ordering machines.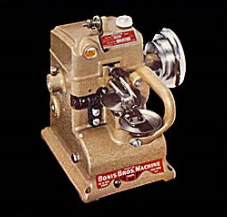 Available in A-16-R, A-18-R, and A-21-R. Uses needle system 459R. Sizes 17/60, 18/55, 19/50
SUITABLE GUIDES WILL BE SUPPLIED WITH ALL MACHINES.
SPECIAL GUIDES ARE AVAILABLE AT EXTRA COST.
INQUIRE ABOUT OUR MACHINES FOR OTHER INDUSTRIES.
SUBMIT SAMPLES.