Bonis Golden Oiler Series – Never Stop Machines for Furriers
with Self Lubrication and New Visual Oil Level Gauge
Bonis Model BS-8
USD $ out of stock

Reconditioned Machines available USD $1,900.00
Reconditioned Machines available
Versatile Sewing Machine for Multiple Operations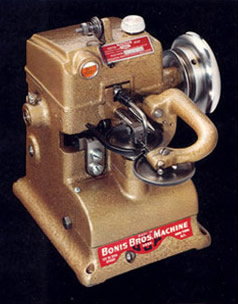 The regular stitch is successful for stitching boot linkings, paint rollers, polishing buffers and joining rugs, lambskin auto seat overs and many other applications.
Reverse overarm on these machines allows material to =flow freely through machine for faster processions.
This machine is adaptable for use in certain applications where a tight welted or flat butted seam is needed. It is equipped with a special seam control gauge for perfectly uniform seams.
SUITABLE GUIDES WILL BE SUPPLIED WITH ALL MACHINES
SPECIAL GUIDES ARE AVAILABLE AT EXTRA COST
INQUIRE ABOUT OUIR MACHINES FOR OTHER INDUSTRIES