Bonis Golden Oiler Series – Never Stop Machines for Furriers
Bonis Model TC-57
with Extended Arm – No Oil Seepage
With extended arm for closing stuffed toys
USD $ 4300.00
We Have Reconditioned Machines available
For Closing Stuffed Toys, Pillows and Other Items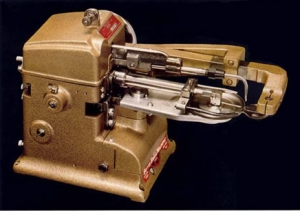 Model TC-57 will make either a tight welt seam or an invisible flat seam with monofilament thread. This machine should be ordered with the stand and motor. It is recommended to have the head mounted flush with the front of the table top, to obtain maximum work clearance. Flush mounting allows large toys to get under the feed discs and the extra long arm accommodates the biggest oversize toys. This machine enables the operator to close from 3 to 4 toys as compared to one by hand.
This machine also gives a neat, clean finish to the seams. By cutting down finishing costs so tremendously the machine pays for itself in a very short time.
Shown with 1 1/4 inch small wheel for greater turning ability. Optional 2 3/8 inch large front wheel also available.
for straight closing operations.
SUITABLE GUIDES WILL BE SUPPLIED WITH ALL MACHINES
SPECIAL GUIDES ARE AVAILABLE AT EXTRA COST
INQUIRE ABOUT OUIR MACHINES FOR OTHER INDUSTRIES