Bonis Golden Oiler Series – Never Stop Machines for Furriers
with Self-Lubrication and Visual Oil Level Gauge
Bonis Model BT-11
USD $ 2650.00
Reconditioned Machines available USD $1,800.00
Higher Bite for Bulky Fabrics and Imitation Furs
Having been specially designed for working on fake furs, Model BT-11 has proven very successful in sewing around shoulders where there is a 4-ply thickness.
This machine comes equipped with seem control gauge number 127-11 which enables even and inexperienced operator to sew straight, uniform seams without catching the hair on the pile fabric.
This machine comes with a magnetic thread lubricator that aids the thread in penetrating rubber tape more easily, this preventing the skipping of stitches. It sews the complete coat, including side seams, sleeve inserts, shoulders, collars, cuffs, etc.
Single needle, cup feed, overseam machine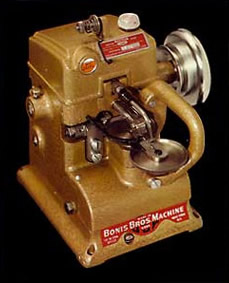 When ordering, please request proper seam control gauge number 127-11
SUITABLE GUIDES WILL BE SUPPLIED WITH ALL MACHINES
SPECIAL GUIDES ARE AVAILABLE AT EXTRA COST
INQUIRE ABOUT OUIR MACHINES FOR OTHER INDUSTRIES