Bonis Golden Oiler Series – Never Stop Machines for Furriers
with Self Lubrication and New Visual Oil Level Gauge
Bonis Model BD-32
USD $ 2650.00
Reconditioned Machines available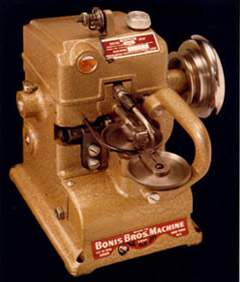 For closing and finishing of draperies and other applications where an invisible stitch is needed.
Designed with a special cam race movement to allow stitching with monofilament thread to produce an invisible stitched seam on corners of draperies.
It is equipped with a special seam control gauge for perfectly uniform seams. This machine is suitable for any requirements where it is necessary to use monofilament thread. The machine is also well-suited for use in certain applications where a tight welted or flat butted seam is needed. Bonis designed this machine to do this task easily and efficiently.
SUITABLE GUIDES WILL BE SUPPLIED WITH ALL MACHINES
SPECIAL GUIDES ARE AVAILABLE AT EXTRA COST
INQUIRE ABOUT OUIR MACHINES FOR OTHER INDUSTRIES