Bonis Golden Oiler RD Series Machines for Furriers
Available in all A and B Models
Bonis Model A—21-RD
Exclusively for Fine Let Out Furs, Female Mink, Ermine, Chinchilla and Sable
FEATURING AUTOMATIC GRAVITY FEED OILING SYSTEM.
This special extra long main shaft allows the use of two hand wheels. This affords better balance and also permits machine operators the use of the second hand wheel for simpler handling of furs. The special needle bar allows the use of 459R Class needles.
Now furriers can convert to the new high speed Bonis machines without special training for the operators.
Available in A-16-RD, A-18-RD, and A-21-RD. This machine is shown with 18FFB with no needle plates. Also available in 18FB with 121R Reversible Needle Plate.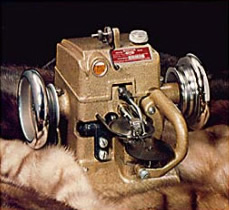 Uses needs system 459R, Sizes 20/45, 21/40, 22/35
SUITABLE GUIDES WILL BE SUPPLIED WITH ALL MACHINES.
SPECIAL GUIDES ARE AVAILABLE AT EXTRA COST.
INQUIRE ABOUT OUR MACHINES FOR OTHER INDUSTRIES.
SUBMIT SAMPLES.